Priority #1: The right Marketing tool to Book out the driving instructor schedule
As a Francise provider you know that Drive Instructors and Franchise partners expect to have the best environment to create their successful business. Apart from the car, the marketing activities and the usual phone booking service, your Franchise partners need one thing more than anything else: a fully booked schedule. That's the key of success!
This is where Run Yellow comes into place: It not only guarantees the optimal usage of the cars, it fills the schedule by gaining additional students - effortlessly!
The number of driving students in Great Britain is capped, hence it is important to give your potential target group the right tool at the right time, even before they are your customer: The Run Yellow App is this tool.

In-App Marketing, Students acquisition and business growth

Price reduction to outcompete your competitors is not the optimal strategy to increase your bookings. Catch new Students with the right Marketing- this is one of many features of Run Yellow. Run Yellow incudes targeted Marketing and In-App Marketing, tailored to your business. Using Run Yellow just demonstrates to your Students you are already a step ahead. Your company branding and / or name will be integrated into your Students App. Run Yellow Marketing will also grab the attention of future customers. Start to out-compete your competitors with Run Yellow!
With the Run Yellow App on the instructors smartphone the instructor can:
Arrange individual appointments smoothly on the go
Adapt an individual diary to his / her needs
Mark personal availabilities and block breaks and vacations in his / her calendar.
Add your appointments at any time (the Students see only available time slots to choose from)
Create individual booking options: single lessons, double lessons, 45 or 60 minute driving lessons or others, as he or she likes or the Franchise offers

Last but not least, the Instructors Run Yellow App and the Students version of the Run Yellow App is branded to your Driving School and / or Franchise!

Run Yellow Backend Management
The Run Yellow back-end can be managed from any computer with internet access. There are highly individually differentiated user groups and a group management system in place to suit all kinds of Driving Schools and Franchise solutions. We are also able to create an individual version for your company to fit to your highly individual demands.

Installed apps on smartphones can be managed from a central administration place. In case of a lost phone an individual instructor or students account can be locked, reactivated or passed on to a new device.

And as you would expect all data flow is of course encrypted and secured.
Customer loyalty, gaining more students and driving lessons
Thanks to Run Yellow, learning to drive is fun. Students benefit several times from Run Yellow on their smartphones. As an instructor you bring them closer to you and your driving school. Organise and confirm bookings is so easy. 24/7. Your students do the job for you. Just focus on what is important for you. We at Run Yellow care for the rest.

But Run Yellow can do even more: Record the drive with speed and GPS position on a map and forward it to your student after the journey: discuss the drive and give your student a better understanding how good he or she was. Point out risky roads and dangerous situations, failure to drive within speed limits. You can even rate his drive on a 5 star scoring to provide feedback.
The students can retrace their whole journey on their own smartphone with their Run Yellow App.
They can share their success with their social networks and attract new students to you! They collect a history of all their star rated drives.
 
Even after your students have their own driving license - as long as they have the app on their smartphones, you can invite them to add their friends to your School so that they can for example gift a free lesson to their friends. Change your former customers to multipliers: Benefits of the Run Yellow long tail marketing exellence.
Your competitive advantage with Run Yellow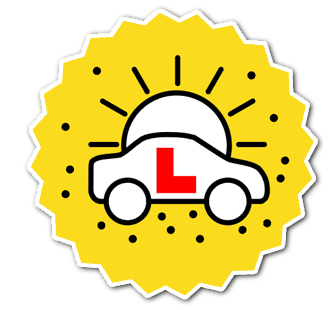 Our primary goal is to boost your business! And to take the daily routine off your shoulders. We make you look more professionel: You can integrate the Run Yellow booking schedule into your own website. So that students can book direct from there too.

With Run Yellow you are on the edge of what's technologically possible to give you the ultimate competitive advantage: Run Yellow ultimately puts your business in the fast lane.
Give us a call, we are happy to chat and talk through all the opportunities for you!
Drive & Easy on your smartphone
This is how some of the functions of Run Yellow look on your smartphone. Are you working sometimes in your office? You can also access to your Run Yellow comfortably from your PC!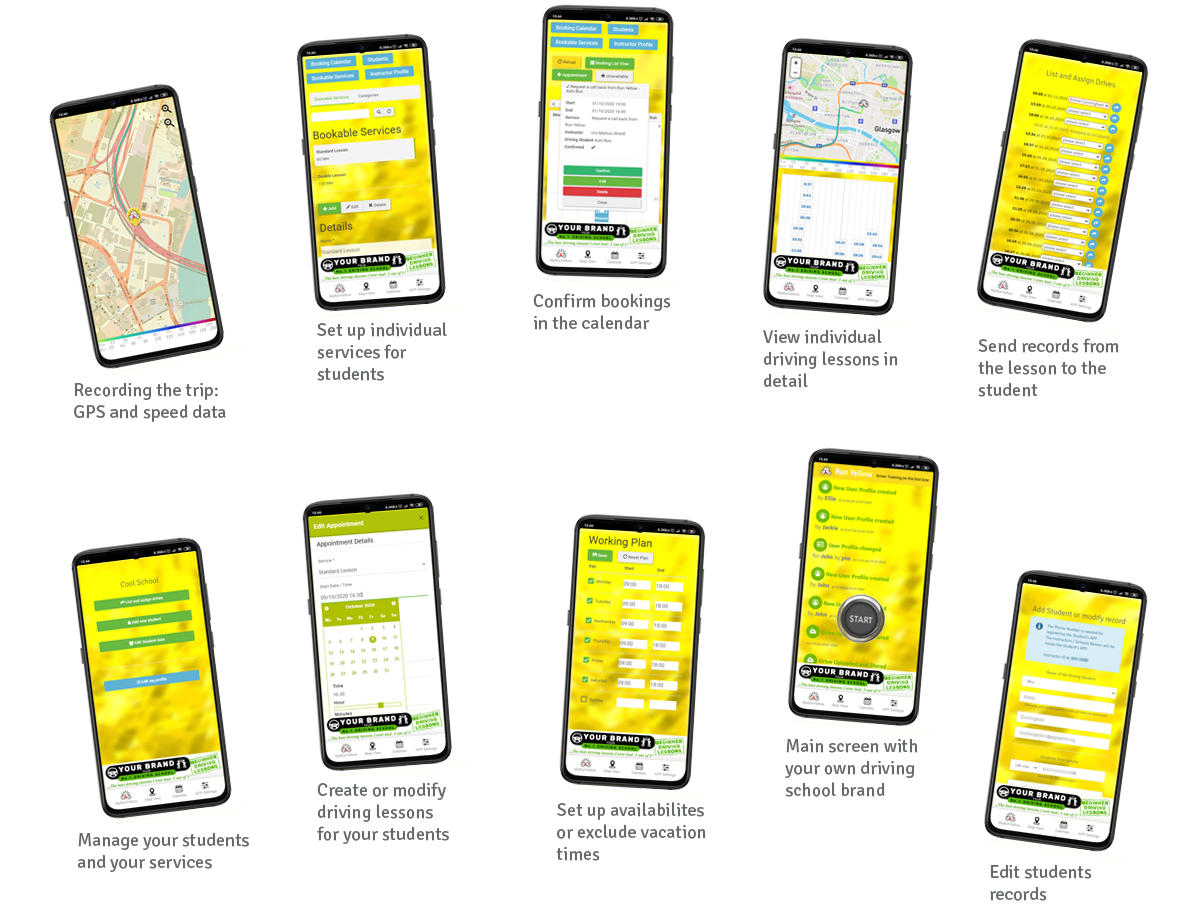 Please contact us, we are happy to answer all your questions